Category:Haverford Middle School
From ThePlaz.com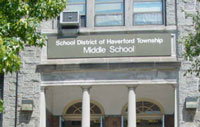 Haverford Middle School is the middle school I attended from 2002-2005. It's a 3-year (6th to 8th grade) public middle school with about 1,500 students.
Grades
Subcategories
This category has the following 19 subcategories, out of 19 total.
Pages in category "Haverford Middle School"
The following 31 pages are in this category, out of 31 total.
6

7

7 cont.

8

8 cont.

E

G

H

I

L

S