File:ROMEDICE.8xp
From ThePlaz.com
ROMEDICE.8xp
‎
(file size: 491 B, MIME type: unknown/unknown)
Warning: This file type may contain malicious code. By executing it, your system may be compromised.
Features
This PRGM simulates the Roman (Latin) knuckle bone dice game, Tali.
The Game
(based from Wikipedia)
Tali is an Ancient Roman gambling game, also called 'knucklebones'. The game was played with four sheep's or goat's knucklebones (talus, 4-sided rectangular dice numbered I, III, IV and VI. The Venus Throw (highest roll) happened when each talus landed on a different side, i.e. with a total of 14. A gambler would either throw the tali from his or her hand, or use a box (called a fretellus). There were thirty-five different throws possible. While the Venus throw was the highest, the Vulture throw (all "I"s) — also known as the Dog throw — was the lowest. The Venus throw could be used to designate the master of the revels.
Space
Using
Push [Enter] to roll the 4 talus dice. Push [Enter] again to re-roll.
Scoring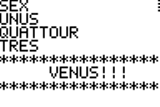 There a few special combinations, which are indicated in the PRGM after they are achieved.
Venus! - Each talus landed on a different side - The best combination!
Senio - A senio was a throw of four tali that has at least one six, is not a Venus, and does not have all four sixes.
Vulture - All 4 tali show the same amount, except if it's 4 "I"s
Dog! - 4 "I"s - The lowest roll (the "dog" roll)
Standard Info
Requirements
A TI-83 Plus, TI-83 Plus Silver Edition, TI-84 Plus, or TI-84 Plus Silver Edition (Not tested on other versions)
A cable to connect your calculator to your computer.
The software to make your computer talk to your calculator. (It should have come with your calculator or cable)
Free space on your calculator.

16,384 blocks for APPS
303 blocks RAM for SNAME PRGM
~100 blocks RAM for simple PRGMs
~500-1000 blocks RAM for complicated PRGMs like games
Install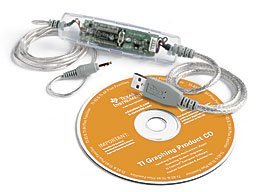 Have installed TI-Connect (the software which came with the cable/calculator)
Download the PRGM "SNAME" which is required to be on your calculator for all PRGMs. APPs like "FERRIS", don't need SNAME.
Download the PRGM (.8xp) or APP (.8xk) file to your computer. Save it somewhere.
After downloading, find it on your computer. Right click and hit "Send to TI-Device"
TI-Connect will open. Choose your calculator and wait for it to transfer. Make sure you have enough free space on your calculator.
Run
Go to [PRGM] scroll to the program's name. Push [Enter] to select it and then [Enter] again to run it. You will see a splash screen. Hit [Enter] to continue.
Exiting
To exit the program, hit [On] key and push [Enter] or [1] to quit.
Removing
To delete a PRGM or APP, push [2nd] [MEM] [2]. Then push [7] for a PRGM or [ALPHA] [A] for an APP. Find the one you want to delete and hit [DEL] [2].
Error: Memory?
If you are getting the error when you want to run an APP, you don't have enough free RAM memory. You need to archive a PRGM. Do this by hitting [2nd] [MEM] [2] [7], finding the PRGM you want the archive, and hit [Enter]. Note you need to unarchive it before you can run it again (Unless you use Mirage or similar OS to run archive PRGMs.)
Note
Note the program might set your calculator in degrees mode, change the graph settings, turn off floating (rounding), and/or overwrite variables. After running the program, make sure your calculator is back the way you want it before doing other things.
Libraries:
Minor/Useless Programs:
File history
Click on a date/time to view the file as it appeared at that time.
File usage
There are no pages that link to this file.