Freshmenators Team
From ThePlaz.com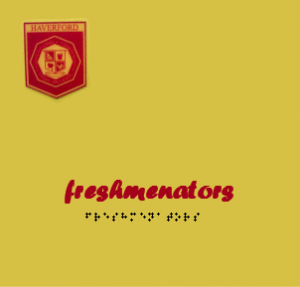 Freshmenators [1] is the 9th Grade Academy team I was on for the 2005-2006 school year at Haverford High School. Because this was the first year of the 9th Grade Academy, our grade made up the name, and I designed the logo.
Team Logo
In late 2005, the Freshmenators held a contest to design their new logo. Mine was the only entry, so it won by default. My design is based off the room number signs at HHS. I also picked the Forte Font to be used at the logotype. And yes, the braille actually reads "Freshmenators". Also, the Haverford crest slightly leans inwards. This is a subconscious indicator, I sort-of purposely included. I also made a style guide one Saturday, but even I don't stick to it. I copyright and reserve all rights to the logo.
Teachers
(information from [2])
2005-2006 School Year (First Year)
Ms. Vanessa Behl (IAG 2H)

B.S. Secondary Mathematics Education - Penn State University
Currently persuing Master of Educational Develop and Strategies - Wilkes University
Graduate of Garnet Valley High School (1999)
Hobbies: Playing Volleyball, Surfing, Snowboarding, Traveling, Listening to music

Dr. Douglas Brown (IPS)

B.S. Physics - West Virginia University
M.S., Ph.D. Experimental Physics - University of Delaware
Teaching Certification through West Chester Univ.
Interests: astronomy, photography, sports, and coaching

Ms. Laurie Kaiser (English 9)

BSED English - West Chester University
Currently Persuing Masters of English Arcadia University
Graduate of St. Hubert High School (1996)
Hobbies/Interests: theatre, reading, music, travel, poetry

Mr. Leon Smith (Western Civilization)

B.S. Secondary Social Studies Education- University of Maryland (Terps) !!
Currently Persuing Master of Education in Instructional Systems: Leadership in Technology Integration for Educators (LITI) emphasis - Penn State Great Valley Campus
Graduate of Upper Dublin High School (1997)
Hobbies/Interests: Playing/watching/coaching basketball, reading, listening to music, helping out in the community, and traveling.