MP3 Players
From ThePlaz.com
This is an overview of the MP3 Players I used as of Aug 2010.
SanDisk Sansa e100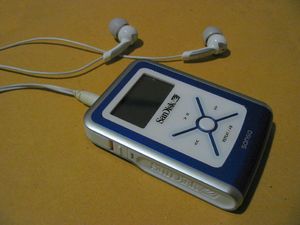 This was my first MP3 player. I forgot how I got it, but I must have been on some sort of budget, because this was a very basic player. I loaded a few songs on it, and loaded podcasts onto a SD card. It had a standard AAA battery.
Creative Zen Vision M 30GB
In 2006, I wanted to trade up to a proper MP3 player which could hold all of my songs and podcasts while having a rechargeable battery. I did not want an iPod because I really dislike the iTunes software. I wanted something with Windows Media Player compatibility. It came with a lot of included software, which was not done well. At first, I tried to load videos onto it, but this does not work well at all; videos had to be converted first which was too much hassle. It came with a podcasting program, ZenCasts but I did not use this for long. Instead I used Juice to download podcasts. I used their sync software at first, but later I just copied files manually in Windows Media Player.
Lately my player refuses to sync with Windows Media Player. I can still load files manually over by copying and pasting.
As of Aug 2010, I still use the device for music, even though it is physically all beat up and syncing is starting not to work. It is reaching end of life, but I see no reason to replace the device. Also I would be unsure of what I would buy. The category is drying up. I think I would just make due with my Palm.
When I got my Palm Pre I loaded a few songs on to it. However, it only has 8GB of memory. However, I do use the Palm for listening to podcasts. I bought drPodder, a podcast catcher for the Palm. This program can download podcasts via WiFi or 3G directly from the web to the device. This is much easier than syncing anything. I still use the Zen for music.
iPod Touch
In the summer of 2010 I was in Germany working at Deutsche Bahn. I had a long commute, so I decided to try out Audible. My Zen and Palm Pre did not really work with Audible. I had an iPod Touch on loan to me for my work on SocialSaver at the Media Lab, so I decided to try it out for podcasts as well. My Palm Pre was a WiFi only device and its battery life was poor. I did not use it for the summer. As much as I dislike iTunes, the podcast support is pretty good. If you are willing to trust Apple to work the way that they want, their products work fairly well. Still it was annoying to use 2 devices.