Samsung HZ30W
From ThePlaz.com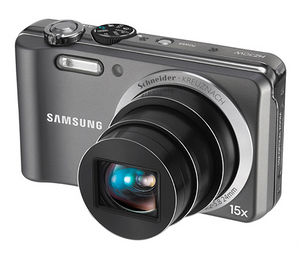 In Aug 2010, I had enough with the Kodak M1093 IS and started looking for a new camera. I still wanted a compact camera I could carry around daily, but I wanted a really good one. I read DPreview's roundup of Compact SuperZooms. But I was unsure about spending $200-300 on a new camera at this time. Then on Aug 22, 2010 Woot offered the camera for $139. I reread the review that DP had written (I bought the 30 model, not the 35 model with GPS and AMOLED screen) and decided to get this camera because I had been impressed with the review a few weeks ago. My friend had recommended a Canon S90, but because Woot was offering such a good deal I decided to get it. The 3 customer reviews on Amazon are quite poor, but I am going to trust Dpreview on this. The Kodak had fairly good customer reviews on Amazon, but I really hated it
Preview
DPreivew Reivew (I bought the 30 model, not the 35 model with GPS and AMOLED screen)
Flickr Camera Page not there yet
Initial Review
I really like this camera. It is kinda big, but it takes really good photos most of the time. It is especially good when it is dark out, and I can hold the camera real still. I don't like that the dial always rotates in my pocket. Also the flash setting resets itself in every mode except manual/"P"/program mode. But once I have turned the flash off, it seems that pictures always come out nice as long as I hold the camera still.
May 2011 Review
This camera soon turned out to be a bad deal. At first, the LCD screen got a dark black streak through it. I should have returned it then, but the streak did not come out on the pictures, so I didn't care. However, the camera developed other problems in recent months. Dust came in behind the lens. You could see it very clearly when the camera was unfocused. When the camera focused, most of the dust was too blurry to really be noticed. However, the real big issue, I think I caused. I must have hit the front of the camera against something as it was in my pocket. The lens shutter no longer correctly opened, and there was a streak on the lens. The lens is so much bigger, and less protected than my old camera that it was ripe for issues. I probably should not have carried my camera around with me everywhere every day. You can clearly see the issue in this photo of the Montreal Biosphère from April 2011.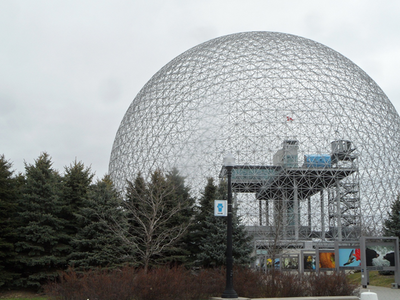 I tried everything to get rid of the streak, but nothing worked. I lived with this big streak in my photos for a month, before I decided to get a new camera, the Samsung DMC-ZS6 in May 2011.