Why Oracle
From ThePlaz.com

I've decided to join Oracle as a Product Strategy Manager in their Cloud Customer Experience (CX) Applications Strategy group. I think this is a unique opportunity to be involved at the forefront of strategy development in a rapidly going division of Oracle. My home base would be Redwood Shores, CA, in Silicon Valley.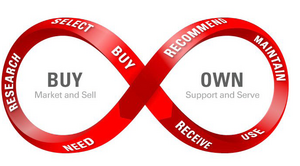 What was most compelling to me was being part of the team creating a compelling vision around Customer Experience. Ever since GridView, I've been interested in customer/user experience. I primarily interned at Disney so I could learn from their strength in Customer Experience. As products become more commoditized it is more and more, as social media rises in prominence, it is even more imperative that companies deliver a good customer experience. This includes the full lifecycle of marketing, sales, and service. I think that technology is a key part of enabling that customer experience, and will only become more important as time goes on.
I think this is a good opportunity to understand this space, and to start building thought leadership in a space. This is a strategy position, closer to strategy consulting than typical product management. At the start of the semester, I was also considering joining management consulting, so this is a compelling fit.
Personally, I think enterprise software could create even more business value by being better, faster, and cheaper (TCO). I am particularly excited about this challenge as I think there is a lot of opportunity in this space!
It's actually a good balance in a lot of ways. This has a balance between a business strategy and a product role. It's also a balance between a business and a technology firm (still CS/Math exposure). I get a small team of smart coworkers, as well as the larger Oracle context. I also have a semi-independent role, especially compared to some other positions I looked at. I remember the internships in which I was semi-independent the most fondly. But I will still have someone I can call on the phone who is doing a role similar to mine, which is important to getting up to speed quickly.
What I Want to Do
At the very start of my job search process, I outlined a series of things I was looking for in my first job outside of school.
I set out a framework to evaluate my decision:
I want a challenging work environment

The industry/work doesn't matter as much as being pushed to learn something new and improve
I want an all-consuming project that I want to stay late for and to be proud of

A group of super smart peers to work with and motivate me to improve
A team that complements each other and provides unique perspectives
A boss that provides constant growth challenges
Somewhere where I can add unique value and make an impact
Somewhere I can take responsibility for my work
I think numbers 1, 3, 4, 5, and 6 apply here. #2 presents more of a challenge, as much of my team is in Bozeman, MT and spread across the country. However, this can be addressed through travel and meetings. In addition, I will have the larger Oracle context in which to work (for example, the Oracle Recent Hires 2013 Club). I will also need to work to maintain connections with my peers from MIT; for example, I certainly want to share an apartment with someone from MIT. I also plan on working my way into the Silicon Valley ecosystem.
I think I have the most to learn from this role, than any of the other active opportunities I am considering. Enterprise software is a large and complex business and my role will be to understand it and make sense of it. I think the team I am joining, though remote, are leaders in this regard. I think your first job out of school is more about learning. I think this opportunity has the broadest possible things to learn.
I like to solve hard problems. Big business is big complexity. In this role, I will need to understand the products Oracle has to offer and how those products can be integrated to build business value. I find that very exciting. In my initial outline of my goals, I listed a challenging work environment as my top requirement. I think the process of figuring this all out is very exciting.
This is closest to what I have been angling towards during my career at MIT. It is similar to what I was planning on doing before attending MIT. While at MIT, I've taken more big business roles than many of my peers. While I am not particularly drawn to big business, I think this gives me some advantage comparatively. I think this position fits into my comparative advantage the best. Oracle is also not a "beanbag chair culture" workplace which drives some away. But to a larger extent than many other large firms, Oracle still has a Math/CS culture.
In some ways this might be my riskiest option. Not from a financial perspective, but from job success. I think this position has the best chance of accomplishing something big, or of being marginalized. Obviously I think I can keep in interesting, but this is not at all guaranteed.
Hard Choices
In accepting this offer, I did have to make hard choices. I think there are some things I will miss in this role that I would not get at a start up. Their brand of product management is much more hands on; this is more business strategy. That brand of product manager, which I did at Disney, gets one closer to the actual design of the product. You'll learn more about the scrappiness of building a product from scratch with little resources. At a start up, you can see the growth cycles of a start up, which is helpful if you want to do your own at some point. In addition, it is certainly easier to wrap your head around a start up. There might also be more upside financially in a start up. At a start up the problem is building a car from scratch and getting it rolling. In this position you have several cars that already exist; but the challenge is to assemble them into one super-car; all while they are moving at 100mph.
These choices were not easy to compare since they lead to different places. In some ways it's comparing apples and oranges. When you can only choose one, you can't get everything that you want. In some ways it is the question of where do I want to go? Do I want to run a start up? Do I want to work my way up a big firm? Do I want to work at a midsized firm? I think the question is still open, but all seem like good options.
I think I can supplement the downsides on my own. I can always improve my programming experience, and I plan to study hard on nights and weekends and work on side projects. I can always improve my programming skills by studying and practicing. In addition, I want to be looped in with the San Francisco start up scene.
Ultimately the question is where to position yourself for a life long career? What will position you the best long term? What are your eventual exit options (including promotion at Oracle)? What makes this hard, is as part of that decision, you need to specialize and start going down a particular path. I've spent a lot of time researching the opportunities that are available to me, investing over 65 hours (not including travel and the overhead of countless emails) in conducting a broad based search, where I reviewed over 100 opportunities. Before accepting this position I've consulted with over a dozen people, including my family, peers, and advisers. Their advice has been very valuable in considering my opportunities. I'm happy to have a position and to put this entire enterprise to rest.